The immediate thought when most people come across the term "Colosseum" is Rome. Fortunately, there's more to life than just this Italian city and if you make the trip to Tunisia, you'll find one that's in equally as good condition.
The El Jem Colosseum is world-renowned, and rightly so. It's been preserved fantastically well and while its location might almost be questionable, it makes for an excellent day trip.
When we talk about the location-factor, we're really just suggesting that it's all a bit random. The area is certainly very pleasant, but it's quite remote. Few houses exist, and are seemingly replaced by thousands of olive trees. The town itself is now quite focussed around tourism; from the individual sellers who are looking to trade souvenirs to the stores which are doing the very same thing. Large buses pass in and out, while there are two car parks for those that decide to make their own way there. Suffice to say, it does attract the crowds.
The site has just one entrance and for those of you who are looking to reach it as quickly as possible, try and access it via the front. Unfortunately, you will have to venture down a steep 25m slope which can be difficult for those of you who might be wheelchair-bound or have a baby in-tow. Once you do reach the entrance, it's quite a simple process. If you happen to be a local, it's completely free, while for everyone else it will cost about 8 dinars.
Of course, for those of you who are already familiar with Tunisian tourism, the costs don't have to stop there. For example, some people decide to pay 3 dinars to get access to the electronic guide.
Once you have finished with the formalities, be prepared to be enlightened. El Jem is regularly compared with the Colosseum in Rome, and it's no surprise why. Large parts of it are accessible, and it has been preserved in a manner which means that you can almost feel as though you are stepping back in time and imagining lions and chariots gallivanting by. Back when it was first built, it had a capacity of up to 35,000 spectators. Sure, it's current state hardly demonstrates this, but you can still sense the size of the colosseums and appreciate the beauty of what was brought to Tunisia.
The vast size of El Jem means that there are plenty of areas to explore for all, regardless of your mobility. With that being said, it is possible to climb to some very high parts of the structure, and this is something that is obviously not going to be practical for those who might have a disability or small children. On the subject of the latter, the site hasn't specifically been designed for little people, meaning that they really should be accompanied at all times to avoid the risk of falls.
As well as the upper levels of the structure, which often receive the most attention, we should give a special mention to the other areas which can be explored. For example, there is a VIP section, which is still accessible to tourists. Elsewhere, in the centre of the structure, you can venture to the playing surface and absorb everything around you. Sure there aren't going to be tens of thousands of people dazing at you, but on a popular day you might have thousands of tourists mulling around the structure and this can at least give an insight of what life used to be like for those competing on the centre stage.
Some areas of the structure you just have to look a little more closely at. For example, if you look at the walls in the centre of the arena, you'll quickly find that they are constructed of marble. It is the small details like this which simply highlight the prestige that surrounds El Jem, and shows just how highly it was regarded back when it was first constructed.
We should also add a small note about how the structure has been preserved. In short, it's impeccable. Unfortunately, a lot of people do look back and suggest that it could have been even better, had it not been for an altercation between the Turks and Mohammed Bey. This altercation resulted in several walls being blown up, with the stone then being stolen to build surrounding buildings.
What is the history of the amphitheatre?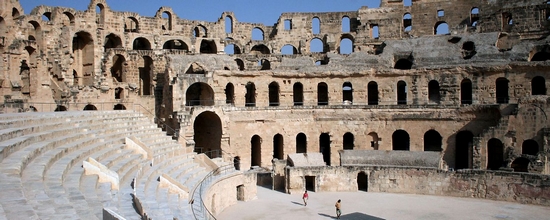 The fact that EL Jem was the largest ancient stadium, apart from the Colosseum in Rome of course, speaks volumes about its history.
It's at this point when many people question just why such a large amphitheatre was chosen for Tunisia. Well, if we cast our minds back a couple of thousand years, this was a country that was a big player. Alongside Rome, it was regarded as one of the most dominant places in the world. Carthage in particular was very prominent, and if we turn to the El Jem region this was major because of its olive oil trade. It was based closer to the sea than it is now, and completely independent from Rome and Carthage. This gave it a lot of leverage, and resulted in the amphitheatre heading its way.
It's understood that the amphitheatre was first talked about in AD230 by a man called Proconsul Gordian. He would incidentally commit suicide in the structure, following his failed rebellion against Emperor Maximus.
It was created to both entertain the public, and enter as a centre for politics. In relation to the former, this meant that it attracted people from afar as the capacity of the arena was significantly higher than the local population. As such, when sporting, civic or judicial functions were held, people travelled from a long way to see them.
One of the most interesting elements of the amphitheatre is the way in which was designed. Those behind it wanted it to reach capacity quickly, whilst also empty quickly. To do this, they created various passages that meant people could quickly find and access exit routes.
The Festival of El Jem
On a slightly more modern note, we have to give a mention to the Festival of El Jem. If you happen to be visiting the local area around the time that this is being held, then it is most definitely worth a visit.
In short, it's all about classical music. Thousands of spectators flock to it every year and it really is a way to celebrate not just the music, but also how the amphitheatre can still be used very well to this day.
The fine print
All in all, El Jem is certainly worth a visit if you find yourself in the area. Fortunately, even though it might be located very remotely, it is easily accessed. Most hotels will offer tours that take you to it, while renting a car is easy and will only take an hour from the likes of Sousse or Mahdia.
A slight point should be made on the climate. Depending on the time of year that you visit, it can vary considerably. Due to its open nature, it can either be exceptionally hot or cold, so make sure you take this into account as you pack for the day trip.
What do You Think ? Leave a Comment Below:
comments