There are many different museums in Tunisia, and each one has something interesting and unique to offer. The more you learn about these places, the more you will want to visit them while you are in this country. These museums are a great place to go if you want to learn more about Tunisia's rich culture and history.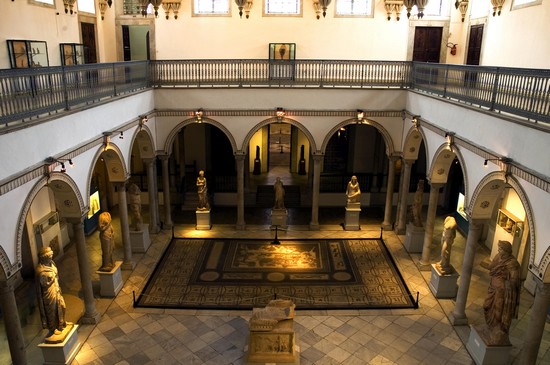 Dar Am Taieb
Dar Am Taieb is an art museum filled with all kinds of contemporary and surrealist pieces that you will be sure to love. This is truly one of the hidden gems on Tunisia, and it's a great attraction that you'll definitely want to make your way around to. While this museum is not widely advertised like some of the others, it is well worth going to see. There is a little gift shop in this museum where you can pick yourself up a souvenir so you'll always remember your visit.
Bardo National Museum
The Bardo National Museum is another place that you will want to make a point of visiting while you are in Tunisia. This museum has an extensive collection of Punic jewelry as well as a number of Roman mosaics that are stunningly breathtaking. As one of the oldest historic monuments in the country, this museum is filled with all kinds of interesting art pieces and historical artifacts that will teach you a lot about this country.
Carthage National Museum
The Carthage National Museum can be found on Byrsa Hill. It has a wide range of important and fascinating archaeological pieces on display that are quite impressive. There is a lot of research that takes place here, though there are a lot of exhibits open to visitors. The visually stunning mosaics, statues, ceramics and metal objects that this museum has to offer make it well worth the trip, regardless of where in Tunisia you are staying. This is definitely one of the more interesting and historically important museums in Tunisia.
Djerba Traditional Heritage Museum
Located in Houmt Souk you will find the Djerba Traditional Heritage Museum. It is widely regarded as having some of the most interesting and impressive collections of historical artifacts in the country. This is by far the best place to visit if you have a desire to learn more about the rich heritage of Tunisia and its people. When your visit this museum you will get all kinds of information on local traditions and customs, including pottery, agriculture and fishing.
Chemtou Archaeological Museum
The Chemtou Archaeological Museum was originally built on what was a gold marble quarry at the time. It is a great place to learn about the history of Tunisia and how it has grown and changed over many years. You will be able to learn a great deal about the ancient Numidian City of Simithus as well as regional geology and other things. If you are a history buff and interested in how Tunisia has become what it is today, this museum is a great place to visit during your trip.
Sousse Archaeological Museum
The Sousse Archeological Museum has lots of important and interesting things to see inside its towering walls. This museum has the second-largest collection of Roman mosaics in the country. Some of the mosaics that are on display in this museum can be traced back to 500 BC. The tombstones, frescoes and ceramics that you will also find in this museum will provide you with a fun and educational visit. It too is a wonderful place to go when you want to learn more about the fascinating country of Tunisia.
Musee du Patrimoine Traditionnel Djerbien
This is one of the more famous museums in Djerba, and it's the perfect place to go when you want to learn more about the region as a whole. Everything about this museum is unique and interesting, including the material it is made of.
This museum is made of a rare white stone that is only found in Africa. There are all sorts of old and important artifacts on display, and they will teach you more about Tunisia. When you go to this museum you will also learn about the habits of locals and see some of the traditional crafts they have made over the years. If you are curious about Tunisia's culture and traditions, this museum will provide you with plenty of information in a visually stunning way.
El Jem Museum
The breathtaking mosaics that can be found inside the El Jem Museum are an amazing sight to behold, and they attract people from all over on a regular basis. While this particular museum may be located in a very rural area, it still has a lot to offer its visitors. You will see some of the oldest pieces of Roman ruins as well as other artifacts from ancient dig sites throughout the country, including heads of statues and much more. There is a very impressive jewelry collection that you will not want to miss as well. If you thought the Bardo Museum was impressive, just wait until you set foot in this one.
Lalla Hadria Museum
The Lalla Hadria Museum is located on Djerba Island, and it will provide you with a plethora of information on local traditions and culture. This is one of the best museums in the country to visit if you want to get to know its native people a lot better. The variety of handcrafted pieces that are on display are quite remarkable to say the least. The extensive collection of furniture, carpets, jewelry and clothing will provide you with a very pleasant visit. The craftsmanship of the art pieces that are on display is incredibly impressive. One of the great things about this particular museum is the fact that it has both older and contemporary pieces of all kinds.
These museums are excellent places to visit when you are looking for a fun way to spend your days while visiting Tunisia. You will get the chance to learn a lot about this country's history and culture in a visually interesting way.
What do You Think ? Leave a Comment Below:
comments