Discover the Best Destinations and Places to stay!
Revolution in Tunisia may have been overdue but when it came it was relatively peaceful as has been the transition to a democracy meaning that the tourism industry in the country is stronger than ever, the coverage having possibly even highlighted Tunisia to potential tourists as a beautiful and progressive nation with a long and fascinating history.
Tourism in the country is well developed and people welcoming, even in smaller towns and villages who see less visitors. Of course the beautiful, usually sandy, coastline is a major attraction but the interior of the country going down to the edges of the Sahara and the across to the Atlas mountains should also be explored by those with a sense of adventure and there is enough to keep history buffs transfixed for weeks.
Latest From The Blog
A brief history of Tunisia
The first thriving centres of culture in Tunisia were the Phoenician cities with Carthage founded in 814BC. Though there were other Phoenician cities that remained independent the Carthaginian empire started to spread and flourish, absorbing many other cities. The Punic Wars with Rome however eventually led to the downfall of Carthage after Hannibal and his armies were eventually defeated and the Romans sacked cities including Tunis and Carthage.
It is with the Romans that Tunis gained importance though, being rebuilt and becoming an important trading post and later city in its own right under the empire. Incursions by the Berbers weakened the North African part of the Roman Empire though and Vandals took control. Later Justinian sent his Byzantine armies to recapture Tunisia from the Vandals in 553 AD and took the cities of the area back with few problems and finding the cities far from vandalised by the Vandals in fact maintained and kept in much the way the Roman Empire had left them.
Arabian armies spreading the Islamic faith eventually pushed out the Christian Byzantines and spread their religion, though Arabs and Berbers fought for control for much of the next thousand years, the result was that the area became split between different tribes though Islam slowly became dominant.
With no dominate ruler the Christian Spanish and Islamic Ottomans fought for control in the 1500s with Turkey controlling Tunisia until their power also waned and the Husseinite dynasty came to rule an independent Tunisia.
Tunisia remained independent until France came on to the scene at first controlling the nation unofficially through a series of treaties and the moving in of forces, initially to put down uprisings.
During the Second World War though the Tunisians sided with the Allies even after much of France had fallen to Germany and they ceased to be in control. Tunisia was also of course a major battleground as the Allies fought for control of North Africa against the Axis powers controlled by Rommel the Dessert Fox.
The Axis armies in Tunisia surrendered in May 1943 and the Tunisians now looked to declare full independence from France as the war came to a close, it was 1957 though that Tunisia would officially become a independent republic. Bourguiba, still a national hero had been the main force behind independence for Tunisia and was the new republic's first president: he was succeeded in 1987 by Ben Ali following a coup d'etat.
Ben Ali's rule was generally considered to be that of a dictator using sham elections to give himself legitimacy and using violence and intimidation to keep down protests. Many of the people of Tunisia though rose in protest with numbers that Ben Ali was no longer to control in late 2010 and on January 14th 2011 Ben Ali fled to Saudi Arabia and an interim government took control, making Tunisia's government the first to change during the Arab Spring.
Tunisia is now a true Republic and elections that were judged free and fair took place in October 2011 and a new constitution has been drafted.
An overview of Modern Tunisia
The People
The majority of Tunisians are of Arab and Berber origin though it is inevitable that there will still be Roman, Vandal, Turk and Phoenician blood mixed in for many natives. Most Tunisians identify themselves as Arab though and the language is a Tunisian Arabic Dialect with many Berber influences and borrowed words. The Berber language however is still spoken in places in Tunisia, primarily in remote mountain and Saharan areas. There is a small European population, mainly French and Italians, and Jewish population as well.
Religion follows a similar balance with 98% of the population Muslims, as well as around 1% Christians and 1% Jewish; of those giving their religion as Muslim the majority are Sunnis.
Tunisia spends 6% of GDP on education, which is to a high standard and compulsory for 6 to 16 year olds, as well as Tunisian and standard Arabic children are also taught French and English. Tunisia also has a number of well thought of universities.
In Tunisia the position of women is much more equal than in many Arab countries and women visiting will find few problems in the major cities, though in restaurants and hotels questions and bills will initially be presented to the men in the party. In law though the equality of women is guaranteed and though traditionally marriages may be arranged, often by the groom's mother, consent of both parties is essential to make a wedding valid and breaking of agreements is common though these arrangements are becoming more rare in the first place. .
The Economy
Tunisia has several major oil fields, these give a significant contribution to the economy, though the country certainly isn't reliant on it. Tourism as well is important to the Tunisian economy and certainly a short-term drop in tourism during uprisings against Ben Ali hurt some businesses.
Tunisia has a fairly diverse economy however and is therefore generally stable and commodity prices don't have as great affect on it as with some neighbouring countries.
Agriculture, mining and manufacturing are all important with Sfax the country's main industrial centre. Tunisia's Association Agreement with the European Union has seen the EU become a major trading partner with around 75% of imports and 75% of exports going from and to the EU respectively. Going forward Tunisia is looking to increase the number of multinationals operating in the country with Hewlett Packard and Airbus already attracted to what has been ranked Africa's most competitive economy, which offers workers with a high level of education, close to the EU but with much lower wages.
Tunisia's cities
Tunis
Destroyed and then rebuilt by the Romans, Tunis has a long and fascinating history that can only truly be appreciated by coming here and walking the streets. The medina part of the city is the most fascinating and much of the city's suburbs are modern and built during the last century during which Tunis has grown in size and importance.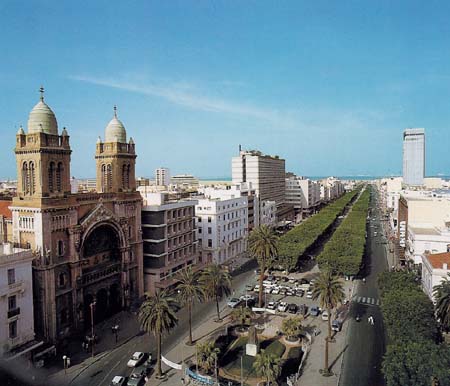 Tozeur
Originally a roman outpost Tozeur is a stopping off point before heading into the dessert and if you are heading into the dessert or to the other natural features nearby such as the salt lakes you may decide to base yourselves from Tozeur but you will find there is a lot to see and do in the ancient city itself.
Kairouan
An important city within the Muslim faith and an important centre for pilgrimage since the 7th century AD when it became a centre of Islamic teaching and learning. Kairouan has two famous mosques, The Great Mosque can only be entered by Muslims but non-Muslims can enjoy the splendid exterior. The Mosque of Three Doors is also worth visiting though tourists can only visit the outside. The classic Medina is worth walking around and filled in for Cairo in Indiana Jones and the Raider s of the Lost Ark.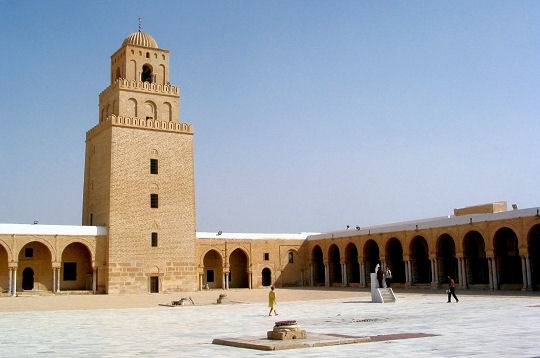 Douz
Tourism was slow coming to this southern city but on the edge of the Sahara and a base for centuries to the nomadic Mrazig tribe many now come here to experience the Bedoin cultures of the Sahara which are generally hard to pin down and which have few examples of their history in terms of food and architecture. The Festival of the Sahara also takes place here each winter.
Sfax
Sfax is primarily an industrial city and Tunisia's second largest, this doesn't mean it isn't historic though or that there isn't anything worth seeing here. This certainly includes the El-Jem Amphitheatre that is wonderfully well preserved and the Medina with its 9th century defensive walls.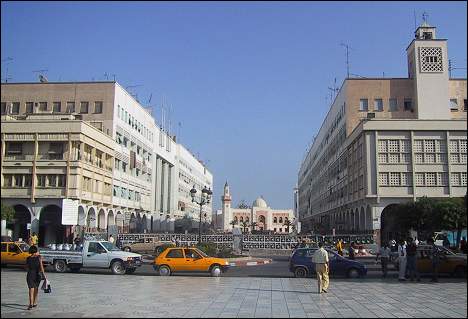 Sousse
One of Tunisia's biggest cities but also a popular beach resort; the Medina here is one of the best preserved in the whole of North Africa with a thriving and exciting Souk.
Sousse's beaches feature clean white sands and gently sloping shallows making this a great beach for swimming and snorkelling.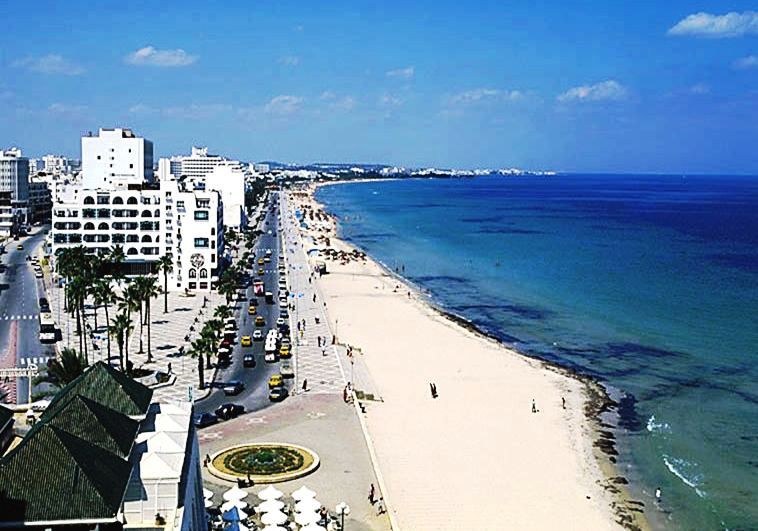 Monastir
A historic city dating to pre-punic times, originally a Phoenician city, Monastir is also one of Tunisia's two main resort cities and the beaches are beautifully well kept with pale golden sand and crystal clear waters. Monastir is great for families as well as those with a love for watersports and those with a love for history as the Ribat, the ruined fortified monastery, is open to tourists and a great place to explore.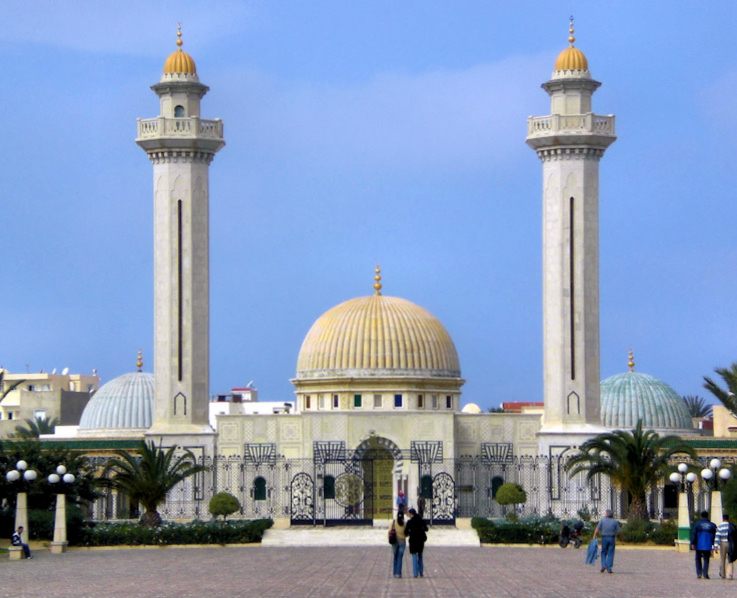 Djerba
To the south of Tunisia and close to the Libyan border Djerba is an island resort that is a perfect place to relax with less high rise hotels and view-spoiling modern developments than some other resorts and plenty of unspoilt nature: the Ra Rmel peninsula is ideal for spotting flamingo.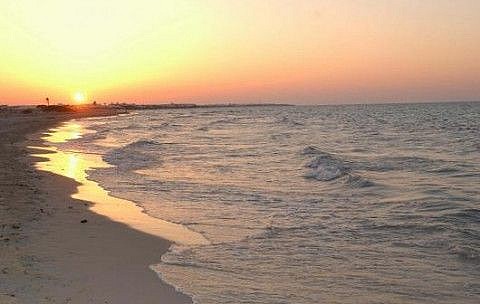 Sidi Bou Said
If you're a keen photographer you will find few places more photogenic than this traditional Tunisian village, with its cobbled streets and colour coordinated buildings in white with blue doors and shutters. The village is actually atop a coastal hill.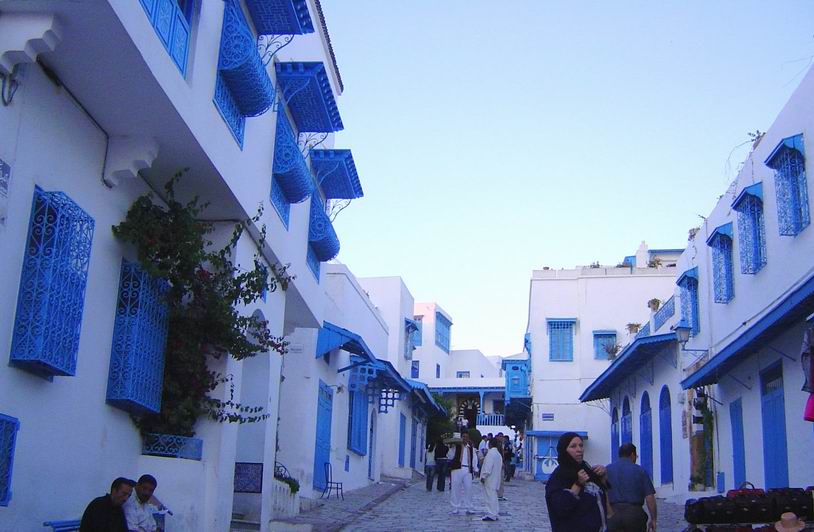 La Marsa
The town is popular more with the wealthy of Tunisia itself than foreign tourists but they are unable to keep it completely to themselves and La Marsa with its grand palm lined streets is mainly of the French colonial era with ambassadors villas and grand town houses now summer homes or hotels.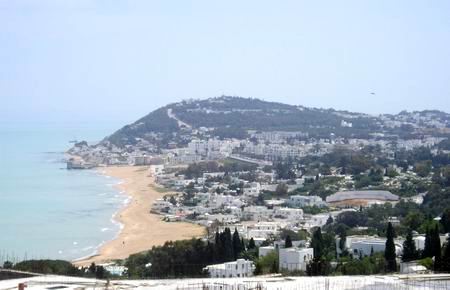 Hammamet
An area spread around two bays and centred on what was, until the 1920s, a small fishing village Hammamet is fairly well developed without having lost too much charm and the exquisite beaches and Turkish baths are where visitors spend most of their time.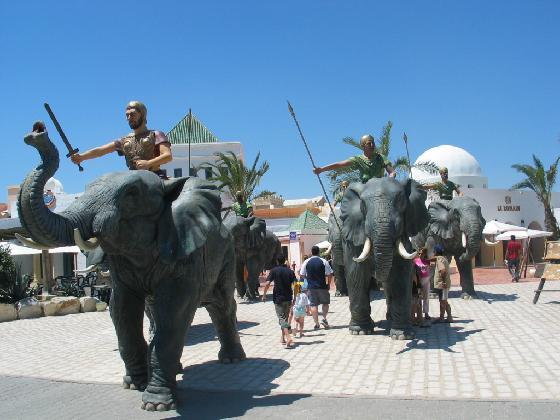 Korbous
Somehow almost undiscovered by tourists from within or outside of Tunisia, Korbous is a small resort based around a spa where people come to take the waters but rarely stay long enough to make the most of the quiet and unspoilt coastline, there are few facilities here but you can really find some peace and relax.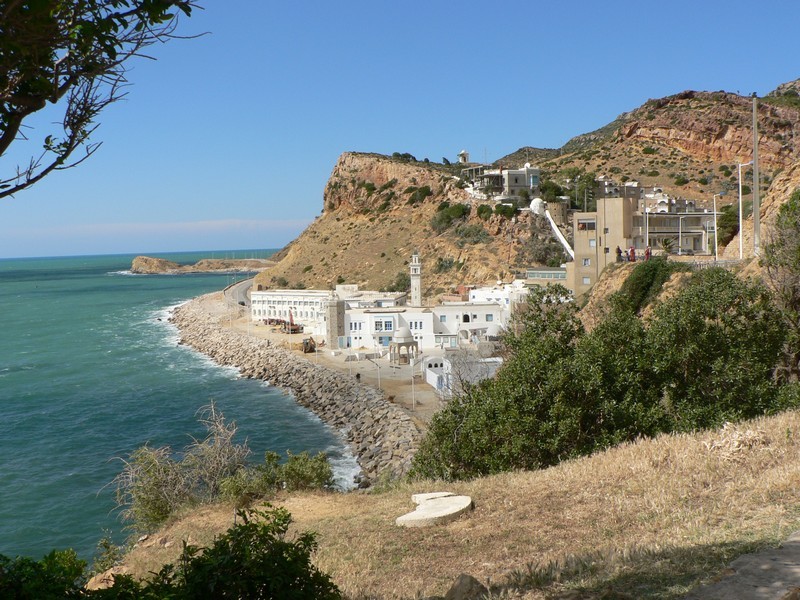 Attractions to visit in Tunisia
Carthage
Punic Carthage was mainly destroyed by the Romans but some ruins lay undisturbed for centuries under later Carthage and have been rediscovered including a kiln and a cemetery. The most interesting parts of the Carthage site today though are the Roman sites including the Hippodrome, Baths, Amphitheatre and theatre of Hadrian with the National archaeological museum of Tunisia here as well.
Tozeur Zoo
On the edge of the dessert the zoo specialises in Saharan and North African species as well as some sub Saharan animals with lions, ibex, camels, hyenas, and fennec (dessert) foxes all on show, plus many reptiles, birds and insects.
Utica
A Phoenician city that outdates both Carthage and Tunis most of the remains are Roman but there are two main sites, the Antiquarium is actually Punic with a Sarcophagus inside. The House of the Fountain is Roman with its fine mosaics and still standing archway.
Lake Ichkeul
A brakikish lake in the north of the country the lake remains all year round as is the heart of an area of outstanding natural beauty and an important breeding ground for many species of birds.
Chott el Djerid: The Salt Lake
Close to Tozeur this is the largest of Sahara's Salt Lakes, dry for most of the year it is when the salt crystals are left on the lakebed shimmering in the sun that it appears most miraculous, a vast expanse 250km long.
Sidi Bouhlel Canyon
A long meandering canyon, the wide base can be toured on horse or camel and a number of deserted traditional buildings explored. Many films have used the canyon including Star Wars New Hope.
Dougga
Not as popular with casual history enthusiasts as Carthage those with a real interest and who are willing to travel off the beaten track come to Dougga, a much bigger and well preserved site, there are temples, theatres, streets ands the central Square of the Winds.
El Jem
The Roman Amphitheatre here is often claimed to be more magnificent than the Coliseum in Rome and is more complete: it once seated 30,000 people, the main games in Roman Africa took place here and the best gladiators fought each other and wild animals from across the continent here in Roman times.
Bardo Museum
The national museum of Tunisia has the world's best collection of mosaics and the museum has a wide variety of Punic, Phoenician and of course Roman remains including complete statues.
Lezard Rouge
The Red Lizard is a grand train service, with the line, locomotives and carriages dating from the early 20th century and installed by the French. The train journey is a popular tourist excursion taking you up into the Atlas Mountains along the Sejia Gorge in real style.
Star Wars film sets
Tunisia was used for almost all scenes on Tatooine in the first star wars movie and as well as the Sidi Bouhel Canyon already mentioned many locations around Tozeur were used borrowing the style for the buildings on Tatooine from Berber architecture. In fact some historic buildings were used in the film including shots of the temple Sidi Jemour. Obi Wan Kenobi's house is just one building built for the movie that can still be visited today as is Luke's Home that was reconstructed for episodes two and three and then left. . The Mos Espa set built in the middle of the dessert for episode 1 and then deserted is arguably the most interesting site though.
Check out all the star wars set locations here.
The Tunisian Culture
It has taken three millennia and incursions by cultures from right around the Mediterranean to form Tunisia's vibrant culture and the latest changes in the culture and national psyche of the country are from transitions first to a independent country in 1957 and in 2011 to a young democracy where the people have the opportunity to shape their country's own destiny.
Tunisian Art and Architecture though not truly unique to the country are a unique mix of different elements and the highly decorated buildings, often covered in tiles, in cities like Tunis and other northern and coastal cities differ greatly from Berber influenced cities with their own architectural style where colour is less important than shape and form.
While in some countries tourists pour in to see historical sites and museums that natives themselves are barely aware of, in Tunisia the people are aware of their own history and many Tunisians take holidays within the country seeing what the country has to offer.
Tunisians love to go out for entertainment, be it sport, theatre, opera or one of the country's many festivals, this is in part due to the limitations on privately owned media until recently.
The main sport in Tunisia is Football and there is a thriving professional league, Handball is another popular sport in the country and Tunisia's team are considered one of the world's best.
Tunisian cinema has a long history and the films are popular across the Arab world in part thanks to the government having always encouraged the industry and many foreign films such as Star Wars, Indiana Jones, Monty Python's Life of Brian and The English Patient filmed here.
Tunisian Food and Drink
Tunisian food is a little different to other North African cuisine with a lot more spice used with chilli peppers and garlic important ingredients. Potatoes and cous cous are the main staples of Tunisian food but there is a great variety of Tunisian dishes made with them and other ingredients. Lamb based dishes are very common but other popular meats include camel.
Seafood dishes are also popular main meals along the coast and it is most commonly served simply grilled or baked, squid and octopus are more likely to be put into other dishes including of course those cooked in Tagines that are in evidence across Tunisia.
As for drinks alcohol isn't common, though in hotels aimed at western visitors a good range of drinks are served in the bars and many of the larger cities and resorts also have bars. Turkish Efes is the most popular beer in Tunisia and the non-alcoholic version is very popular as well. Tea remains the drink of choice with mint and fruit teas the most commonly drunk and offered to visitors in many homes as well as stores.
Wildlife and countryside in Tunisia
Tunisia isn't all dessert: there are forests, marshes, arable land, olive groves and mountains. These different habitats each attract different animals and a huge number of both resident and migratory birds can be found here with Lake Ichkeul a beautiful spot to bird watch and relax in the surrounding meadows of wild flowers.
Throughout much of Tunisia geckos on the walls of buildings are a common site that you will quickly become used to, slightly larger animals that are common in the towns include scavengers such as foxes, vultures and kites which live off what people through on the rubbish tips. Other animals that are common but not wild include domesticated camels, sheep and goats.
The waters around the Tunisian coast are teaming with fish and many people come to Tunisia for fishing holidays and may charter boats to go game fishing.
As you move closer to the dessert you may expect to see less wildlife but instead it becomes simply less like that you would see in Europe or other temperate areas. Scorpions are common as are a number of snakes, if you prefer something more cuddly though look out for Fennec Foxes.
Entertainment in Tunisia
Shopping
All of Tunisia's old cities with Medinas will have a souk within the old city area, the souks are generally spread among narrow streets with small stores in the surrounding buildings and even smaller kiosks and stalls. If you like to hunt for a bargain then a lot of similar souvenirs can be found I a number of stores allowing you to haggle. Some of the more interesting items including jewellery, antiques and handicrafts are unique and so you can spend days looking for items that really catch your interest, though haggle too hard and you could miss out.
In Tunis and a few other cities there are also main squares, in Tunis the main square is Mohammed Bouazizi square, formerly November 7 Square, and is regularly full of stalls selling primarily food and clothes, whereas permanent stores are more likely to sell electronics, tourist souvenirs and local rugs, carpets, ceramics, and leather and metal made objects. Though it may not be practical to get a whole carpet back with you on a plane the rugs on offer are much smaller and can be very beautiful.
Nightlife
The nightlife in Tunisia's resorts is often manufactured and put together for tourists, while bars and nightclubs are similar to what you would find in Europe. Though in many places shows are put on which claim to be traditional Tunisian performances but often are nothing of the sort. Tunisian dancing can be very elegant and should be done to the sounds of Pipes and Drums, a genuine show though should be mesmerizing without being vulgar. Other shows follow stereotypes of what tourists expect including snake charmers, sword swallowers, knife juggling and belly dancing all of which have little place in Tunisian culture.
Events
Tunisia has many festivals including not only local or national festivals but a number of regional and also truly international festivals.
The Carthage International Festival is a major summertime event with dance, art, theatre, opera and classical music including many of the best artists and performers from around the Mediterranean and Arab world. This shouldn't be confused with the important Carthage Film Festival in October.
Other festivals include many music and dance festivals including the Carthage Jazz festival and A Capella international music festival in Tunis.
The International Festival of the Sahara in Douz is one of the most unique festivals though and as well as being an important social event for the nomadic people of the Sahara it is a tourist attraction as well. The Bedouin people come here to meet, exchange knowledge and stories and compete in games including camel racing and horse racing and other events based on important nomadic skills such as hunting rabbits with desert hunting dogs. They also put on grand displays of dancing, singing and poetry including new works and works that have been passed down through generations and are often only kept through memory.
Transport
Getting In
You can get into Tunisia by flying into one of the country's airports with the main International airports located in Tunis, Sfax, Tozeur, Sousse and Kairouan as well as a number of others with flights coming in from across Europe and the Middle East with more frequent flights during the summer.
If you want to bring your car with you to Tunisia most regular and fast ferries come across from Sicily though from South France and other parts of Italy as well, these all come into Tunis which has the country's biggest and most important port.
Getting Around
If you fly in to Tunisia hiring a car can help you get around and there are four main motorways. Cars are especially useful to get to some of the coasts quieter resorts and beaches and to get to the south of the country and into the dessert.
There are railways that cover the north and centre of the country with regular services joining major cities and there is also a light transit system in Tunis. There are currently rail links with Algeria allowing you to take the train into or out of the country but there is no rail link with Libya and to travel to the country driving along roads skirting the desert is required, a link with Libya is planned though a change of gauge is delaying developments.