Even though Tunisia is the smallest country in Northern Africa, I think it has the most to offer. There are so many sites to see and adventures to be had; you won't be scratching your head wondering what to see and do.
Beautiful landscapes which stretch for miles in the city of Douz, offers the opportunity to take a camel ride. Visit the amazing Troglodyte Caves of Matmata, you can have a look how local Tunisians live in these mind-blowing homes which are dug into the ground.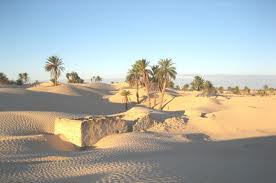 Holiday Hypermarket is a great way to organise a memorable holiday; with a comparison tool you can get an idea of the type of holiday you can have. With this ability to determine whether you want a trekking holiday, historical sightseeing, beach resort or a combination of these things, you are better able to pinpoint aspects such as your budget and requirements.
If you are interested in visiting ruins and finding out the history behind them, then why not visit Charthage, a Roman metropolis; it is a World Heritage Site located on the outskirts of Tunisia. It is also a fabulous photo opportunity if you are interested historical events and locations.
If you enjoy trekking combined with sightseeing, then this is the place to visit. A day-trip to Sidi Bou Said is a beautiful place to visit; the village is awash with blue and white houses. It's a great place to haggle and buy treasured souvenirs; there are lovely places to sit and have lunch too.
Another World Heritage Site is the Holy City of Kairouan; this spiritual place is sacred in that it is known as "the city of 50 mosques". It is absolutely stunning and will take your breath away. Raiders of the Lost Ark was filmed along these streets; depicting the Great Mosque, built during the 9th century.
Chak Wak Park is a great place to learn about historical events and religion. The artwork is outstanding and thought-provoking; the Red Sea and Noahs Ark are striking.
The famous Turkish baths of Hammamet are something to remember, take this opportunity to experience being pampered with invigorate massages and cold refreshing showers.
The beautiful beaches of Tunisia are ideal for relaxing after taking in the heading sights; the blue waters are crystal clear and inviting.
With Tunisia being a secular country, Christians, Catholics, Jewish for example are welcomed. In-fact, on the island of Djerba, you will find many synagogues and the area also dates back thousands of years ago. Tunisia is a friendly place to spend time and with the benefit of using Holiday Hypermarket to sort through the mundane tasks, such as hotel searches, hotels and day-trips all you have to do is look forward to is an amazing time in Tunisia.