It would be fair to say that you really have to tap into your creative side when you venture on vacation and look to keep on top of your beauty regime. It's not possible to take your entire bathroom of products, and more often than not a suitcase just isn't enough to house everything in.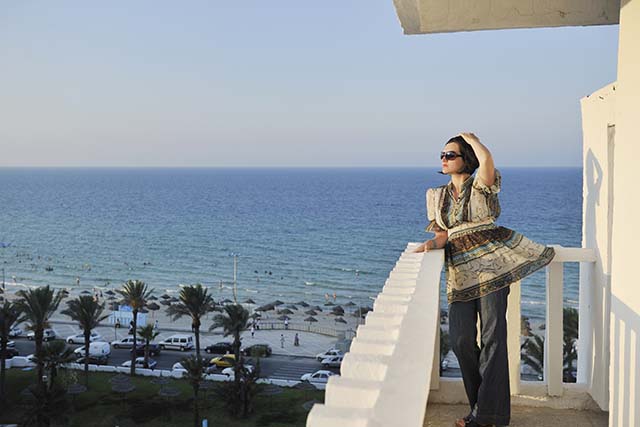 Bearing this in mind, we have devised the following hacks. Before you jet away on your travels, take in the following advice to help perfect your beauty regime.
Take moisturizer for the long flights
They might get us from A to B, but airplanes are still far from perfect. From your skin's perspective, they can be a nightmare and you'll soon find that your skin completely dries out as you take to the air. As such, take moisturizer with you, and apply plenty of it as soon as you board your flight.
The same rules apply for body lotion
Following on from the above, the same rules apply for the rest of your body. It's not just your face that is going to dry out, every other part of your body is as well. As such, invest in a mini body lotion bottle. For the typical week-long trip, you'll probably have enough with a 3 oz. bottle.
Fortunately, these bottles are very easy to obtain free of charge. A lot of companies, with Bath & Body Works being one, regularly send out coupons allowing you to claim your free 3 oz. lotion.
Get your dose of travel-sized makeup
As any keen travelers will testify, one of the big problems is that makeup is so cumbersome to travel with. This is where a travel-sized kit comes into play. Whilst mini in name, and size to an extent, they will still probably last you for a year or so and be well worth the expense. It's also a chance to experiment with a few new colors.
If spending money isn't an issue for you, then you can just take only the essentials, and visit a local makeup artist if you are attending any events or having important meetings.
And while you're at it… turn to travel-size dry shampoo
Another travel-size option comes in the form of dry shampoo. We don't need to reiterate what the sun and saltwater does to your hair, it can wreak havoc with it at the best of times. If you can at least apply some dry shampoo before bed on an evening, you can wake up with it feeling as good as new.
Mini sunscreen works as well
While it might be tempting to simply purchase sunscreen when you arrive in your destination, try and resist such an urge. Instead, turn to a mini sunscreen face stick, which will make it oh-so easy for you to apply to your face. Additionally, if you opt for a Sun Bum product, you'll find that it's eco-friendly (which can't be said for a lot of sunscreen products).
As does travel perfume
Something else that you should be packing as a miniature version is travel perfume. Fortunately, cost doesn't have to be so much of a barrier here, courtesy of the samples at Sephora.
This is a store that will conveniently put any perfume of your choice into one of their little spray bottles, before labelling it.
If you are feeling particularly adventurous, consider one of their trial perfume kits. Whilst the perfumes in here are already selected, you do get seven to ten to choose from and also get a voucher for a free full size perfume as well. Ultimately, if you are traveling frequently, this can be another option to consider.
Still exercise caution with free samples
One theme which you might have noticed that was commonplace through this guide is the emphasis on free samples. As we all know, the beauty industry is expensive, and free samples can at least provide some rest bite.
However, exercise caution with these. Don't be tempted to grab them all, as some just won't be suitable. If you are going down the free sample route, at least make sure you've tried it before and you know that it's compatible with your skin or hair.
Stick to full size bronzer
Most of the advice thus far has been about packing travel-size beauty products. Well, let's go against this grain with bronzer; you can comfortably get away with using a full-size version. By simply dabbing it with circle cotton pads, you'll find that you preserve it easily.
Give yourself the surf look (well, almost)
Whilst on your vacation, it could be argued that the "surf style" is something that is slightly more commonplace and fitting for you. This is where a mini surf spray should be on your shopping list. Whether you make it yourself, or turn to a Bumble & Bumble product, you'll be thankful you took it along.
The beauty of blotting sheets
It might have its tanning benefits, but from an oil-generation perspective the sun can be your worst nightmare. It can make the oil pile up on your face, and this is where blotting sheets come into play. Make sure you arm yourself with plenty of these and whenever you do feel an excess of oil build up on your face, start dabbing (not wiping) it away.
Develop a cartoon smile with white strips
Even if it's just for the purpose of those holiday snaps, nobody will begrudge you a cartoon-esque white smile. This is where white strips come into play. You don't necessarily have to use them year-round, but if you can apply them just for the duration of your getaway it will make a noticeable difference.
Stay on top of your pores
Just because you are exposing your body to the sunlight, it doesn't mean to say that your pore-problems are going to disappear. This is where you need to turn to a pore strip, to reduce the risk of those breakouts occurring on the top of your skin.
Bring your own nail polish
You never know if there will be an occasion where you will have to do your nails yourself in an emergency abroad, or if the manicure establishment of your choice charges extra for nail polish (this is quite common in Asia). As such, take a mini kit with you, and borrow an emery board from the hotel if required.
It can sometimes come down to your choice of pillowcase
This next suggestion might sound as though it is bordering on the ridiculous, but give us time. When you sleep on a standard pillowcase, your face has the habit of becoming scrunched up. The knock-on effect of this is that wrinkles are more likely to develop, and dry skin will form.
This is where a silk pillowcase steps in. It doesn't absorb as much moisture, meaning that your skin doesn't become anywhere near as dry. Furthermore, it can just be thrown onto a standard hotel pillowcase for the desired effect.
Finish things off with a face mask
By the end of your trip, your body (or your face specifically) needs some TLC. This comes in the form of a face mask.
This is one of those items where you might need to invest in, as it can be quite difficult to obtain the freebies that sometimes don other types of beauty items. However, to instill that elusive freshness into your face, it's completely worthwhile.