People tired of the typical sun and beach holiday have begun to explore more mystical and mysterious destinations. Combined with the fantastic value of a cruise, a hidden gem is now drawing tourists eager for more…..
the captivating and ancient country of Tunisia.
About Tunisia
Tunisia, one of the smallest nations situated along the Atlas Mountain Range, is located in Northern Africa, bordering the Mediterranean Sea between Algeria and Libya.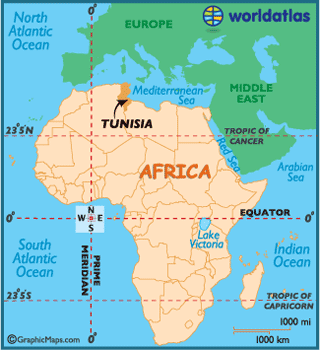 The mountainous north has temperate climates with mild rainy winters and hot dry summers. To the south is the Sahara desert while the remainder is fertile soil and 810 miles of coastline. The salt lakes (chotts or shatts) lie east-west at the northern edge of the Sahara desert, in sharp contrast to the sand-fringed Mediterranean coastline. Due to its diverse and natural beauty, Tunisia offers a wide range of enticing and exotic attractions.
One of the most unique and compelling flavors of Tunisia is its history and architecture.
Carthage, located on the eastern side of Lake Tunis, has existed for more than three thousand years. It boasts a huge Roman amphitheater, once the biggest in the world. The Bardo museum houses a huge collection of Byzantine and Roman mosaics. Sections of the old Roman aqueduct still run through the city center. The Sanctuary of Tophet is another historical, yet darkly compelling offer of Tunisia.
The Sanctuary was a Carthaginian sacrificial site and adjoining burial ground.
Such history can be found throughout Tunisia. In the northern city of Le Kef, tucked deep in the hills, old cobbled streets and blue-shuttered buildings speak of time stood still, while the well-preserved Roman cities of Dougga and Bulla Regia offer artistic and archeological intricacies.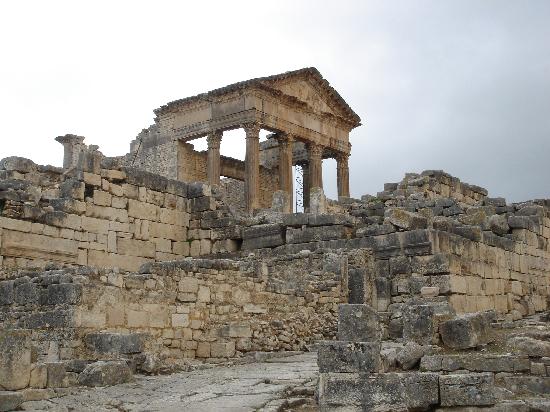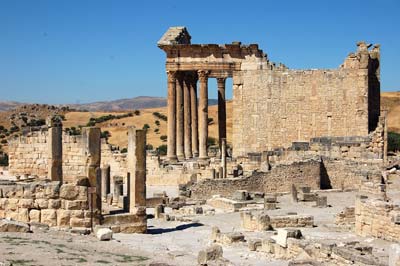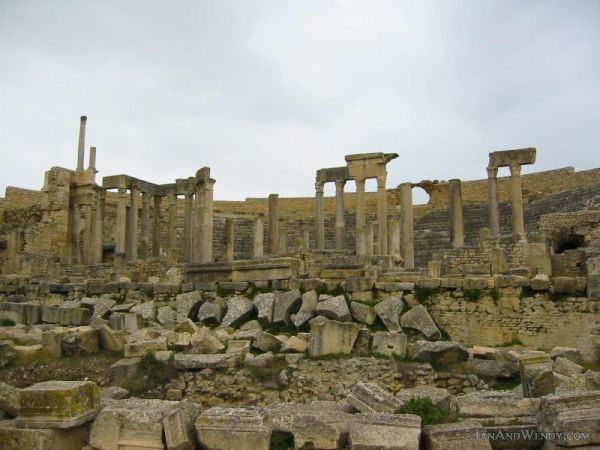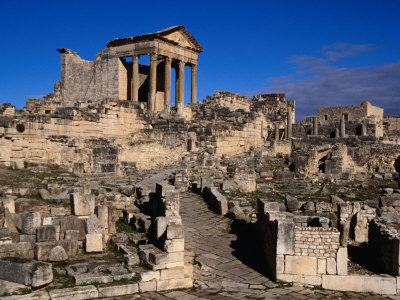 Tozeur offers the salt lake Chott el-Jerid, the largest of Tunisia's salt lakes. It can only be described as mesmerizing….a snowy white sheet that stretches for miles and miles. Water can still be viewed underneath.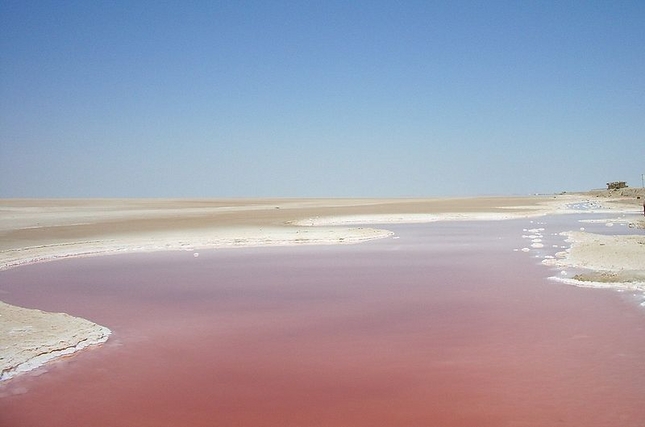 Sharply diverse from such significant historical impact, Tunisia also offers a playground of luxury and exotic flare. Boasting seven million tourists yearly, Tunisia offers a vibrant cultural scene and atmospheric hotels that have taken cue from high-end Moroccan offerings. Numerous café's and restaurants offer the freshest fish.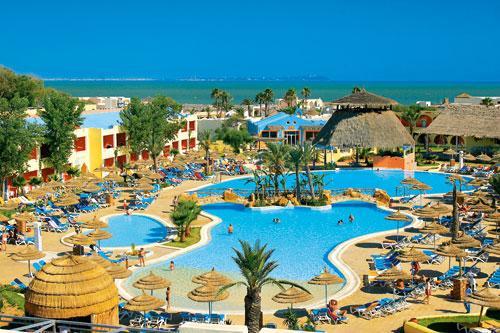 The northern lakes are awash in pink flamingoes. The Mediterranean suburb of Sidi Bou Said is ripe with nighttime entertainment. Maghrebi favorites, such as homemade pasta and pastries, are as good as those in Italy or France and can be savored for a fraction of the price.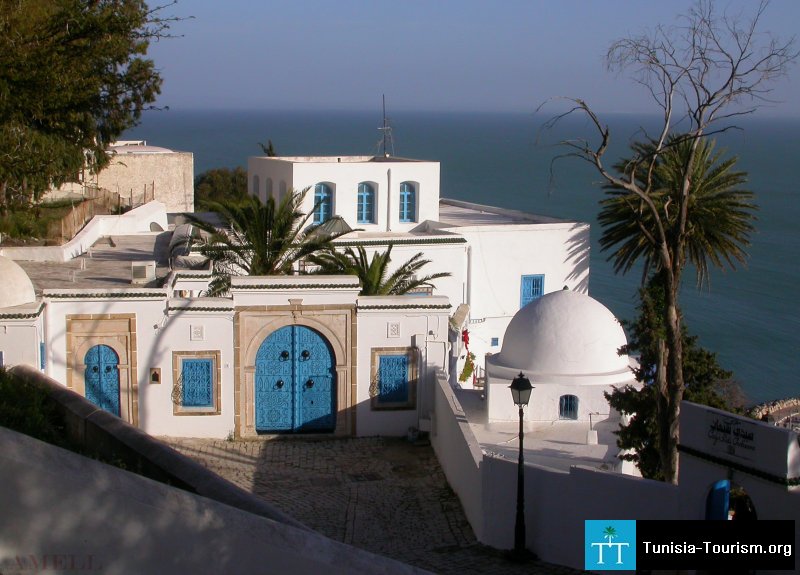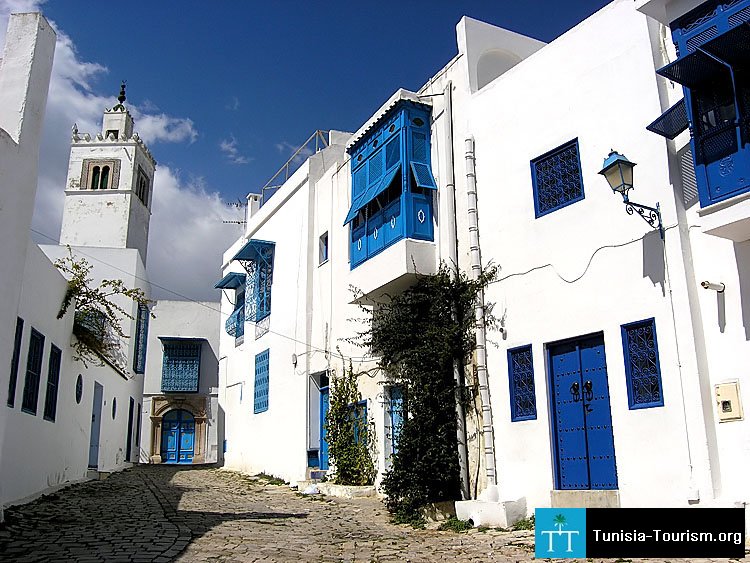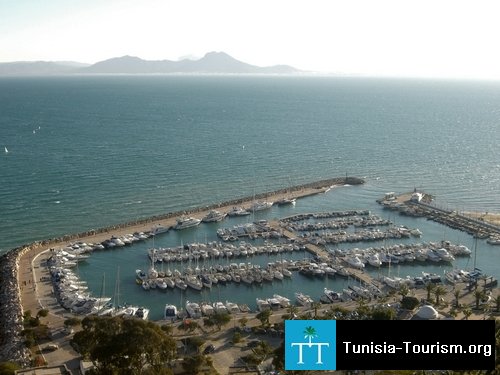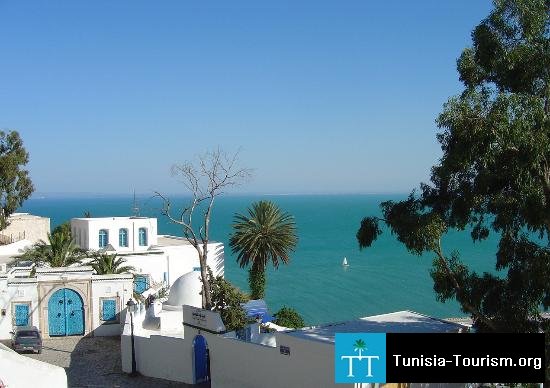 Sousse, one of the liveliest towns, boasts a bustling medina and is walled by high medieval fortifications that resemble sandcastles. Sousse beaches lay claim to the softest sand. The 810 miles of coastline found in Tunisia offer serious sun-sand-sea holidays for the entire family. And everywhere, the gentle scent of jasmine carried on the sea breezes.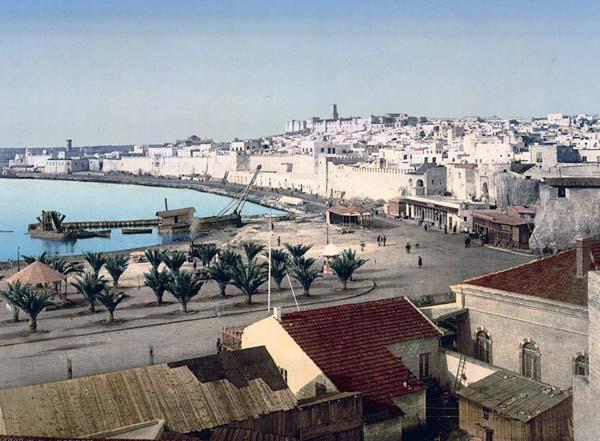 Cruises to Tunisia
Cruises to Tunisia are offered by many of the top cruise lines such as Azamara, Costa, Holland America Line, Royal Caribbean International, Princess Cruises, Le Levant, Oceania Cruises and Thomson Dream.
Prices vary from six hundred U.S. dollars, for a standard cabin, to two-thousand U.S. dollars, for deluxe, spa or family suites.
Each cruise line offers many amenities from five-star cuisine to entertainment and spa luxuries. Tourists, offered such diversity, can then tailor-make their dream cruise.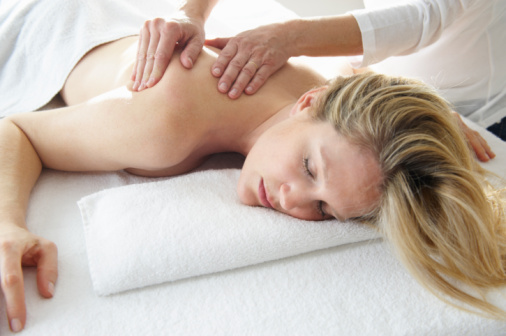 Wanting an Italian flair, MSC Cruises may interest one family, while perhaps the fantastic value of Thomson Dream Cruises may captivate another. Cruises offer the inclusive value tourists are looking for. Travelling costs an average of one hundred fifty U.S. dollars per day, stretching the imagination, and the dollar, of tourism.
Being such a diverse and beautiful country, there are two recommended times of travel to Tunisia, spring and fall. In the springtime, mid – March to mid- May, Tunisia offers warm temperatures, ocean breezes and a countryside covered in wildflowers. The soft sand of Tunisia's beaches is warmed by the sun, and mild waves invite frolicking in the water.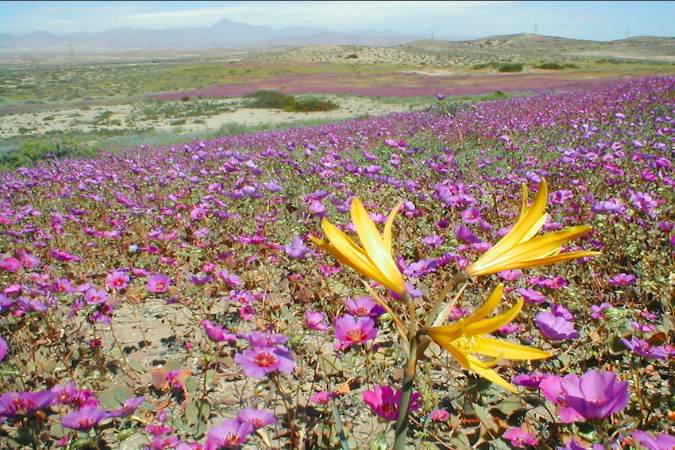 Summertime is considered Tunisia's "high season" and while this is a great time for beach frolics, it is their busiest time.
In the fall, October to late November, Tunisia offers its vast and compelling desert dunes. Captivating to both professional and amateur photographers, the vast emptiness and stark beauty of the dunes of the Sahara are edged by salt lakes which shimmer like mirages.
November also brings Tunisia's music festivals. The town of Tabarka, known as "music town" offers every sound from sophisticated jazz to Rai or Latin beats, and the locals dance all day.
Going on a vacation shouldn't be work. Cruises take the worry, hotel and food cost, daily travel expense and hassle out of the picture, leaving vacationers with only one thing to do….relax. And relaxing in Tunisia, one of the most exotic yet affordable ports, is never hard to do. Benefit from cheap flights , and come visit us in Tunisia !